Because we LOOOOOVE monsters!
Join our launch list; Get free stuff!
Join our launch list for the Monsters and Other Scary Shit anthology, and receive a free 50 page preview of the book!
We value your privacy and would never spam you
What is this thing you're trying to get me excited about?
Monsters and Other Scary Shit is a glorious, 224 page hardcover ode to monsters. It's a love letter to monsters, from 30 creatives teams who adore everything about monsters. There are funny monsters, scary monsters, fantastical monsters, ghoulish monsters, science fiction monsters, religious monsters, and more.
If you love monsters of all types, shapes, sizes, and origins this is the monster anthology for  you. It's the monster anthology to end all monster anthologies. This is the best monster anthology that has ever existed, printed in the most beautiful way possible.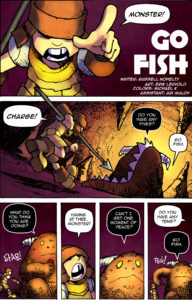 Who are you to make such claims?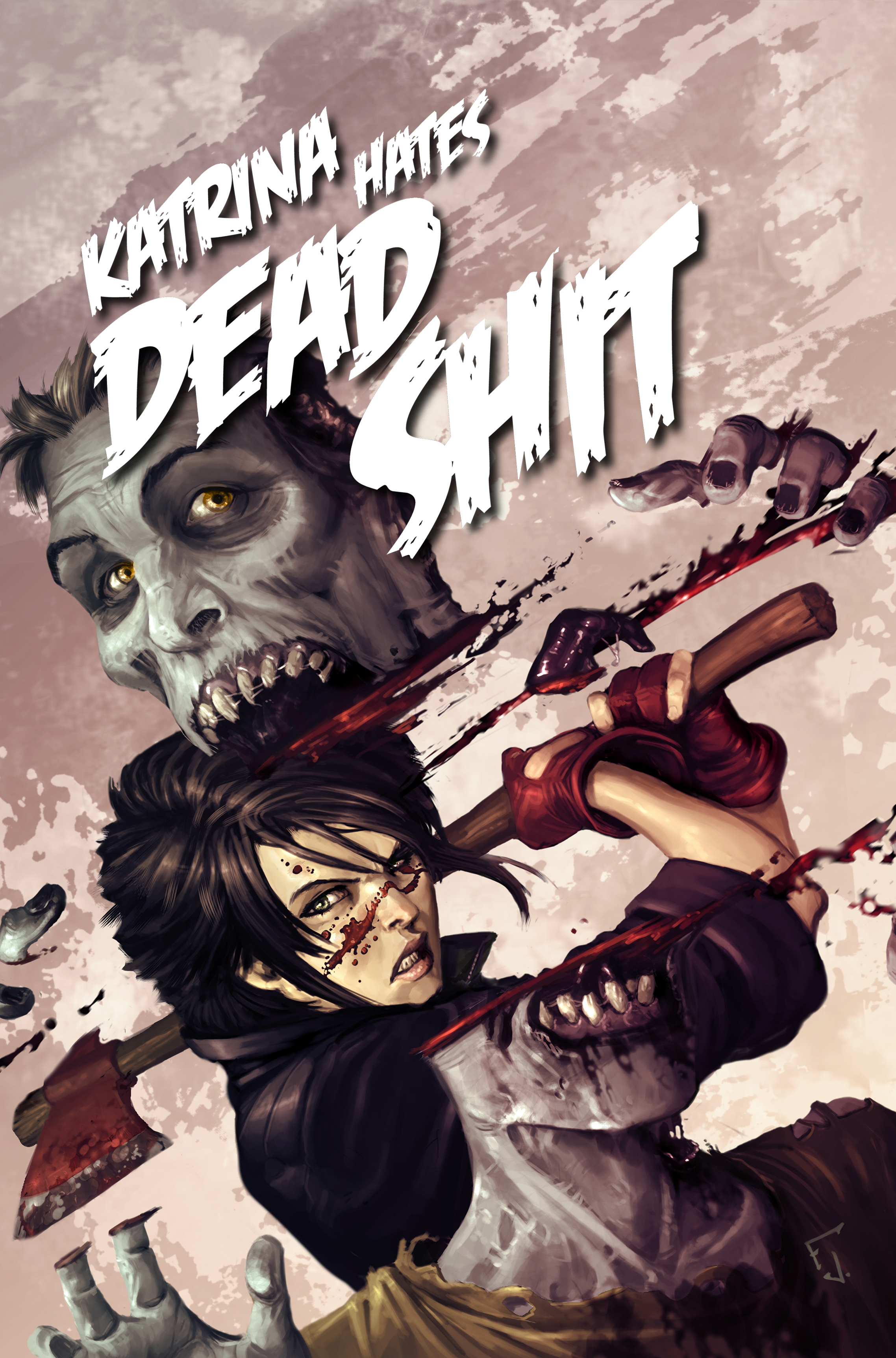 My name is Russell Nohelty, publisher of Wannabe Press (www.wannabepress.com), a small press that creates weird books for weird people, creator of Katrina Hates Dead Shit and Ichabod Jones: Monster Hunter, and editor of this anthology.
And I fucking LOOOVE monsters! If you can't tell by the titles of my first two graphic novels, I'm a bit obsessed with monsters. I love psychological monsters, horrific monsters, religious monsters, mythological monsters, fantastical monsters, and everything in between. I've never met a monster I didn't like.
After my first two graphic novels were complete, I began searching for my next comic project. I knew I wanted to do something monster related (that is my bag after all), but I didn't know what.
That's when it hit me. What if went to my favorite creators, ones that I knew loved monsters as much as me, and put together an amazing monster anthology where all of us could tell our favorite monster stories? It would be a love letter to monsters.
Once it hit me I couldn't get it out of my brain noodle. I set out working on it immediately. My goal was to gather the best independent comic book creators from around the world and set them free to make something awesome. They only had one rule. Their story had to have monsters in it.
I talked to dozens of creators and received a slew of pitches. From there, I whittled it down to 30 teams who had a deep love of monsters and the talent to pull off something both amazing and unique.
And boy did they deliver.
This book is everything I envisioned and more. It's the beautiful, hard cover anthology I always wanted to display on my coffee table.  It's the book I wanted to read over and over again.
If you love monsters as much as me, and you've been looking for a book that's filled with as much love for monsters as you have in your own heart, then this is the book for you. I am so proud of Monsters and Other Scary Shit. It's everything I wanted it to be and more.
Does this book sound awesome to you?
Sign up for our launch list to learn more AND get a 50+ page preview of the book for FREE!
We value your privacy and would never spam you
Who made that dope ass background image?
That's not just a dope image, it's also our wordless, wraparound cover. It was drawn by Aaron Alexovich, creator of my favorite indie comic of all time, Serenity Rose, a 500+ page graphic novel about a previously famous witch trying to come to terms with her powers in a very weird town. Read it. Buy it. Love it.
If you've never read that book, you probably know him from his work on Invader Zim, both the television show and more recently on the comic book. Aaron's a powerhouse in the world of indie books, and Zim is one of my favorite animated shows of all time, so getting him to draw the cover was a no-brainer. I'm so thrilled he said yes!
On top of it all, Aaron might love monsters even more than me, which I once didn't think possible.
What monstrous tales lie inside our pages?
Pretty covers and cool titles are great and all, but it all comes down to one thing; the stories. If we can't deliver on the stories, then no amount of pretty pictures will make Monsters and Other Scary Shit worth it. So what stories make up this anthology? Let's take a look.
Go Fish - Erik Lervold (a), Russell Nohelty (w)
Go Fish tells the story of a monster who is constantly accused of stealing a princess, even though they are just friends. Soldiers and knights often try to kill the beast, even when he's just trying to play Go Fish with his friend, like he is in this tale. Written by Russell Nohelty (Katrina Hates Dead Shit) and drawn by Erik Lervold (The Red Calaveras)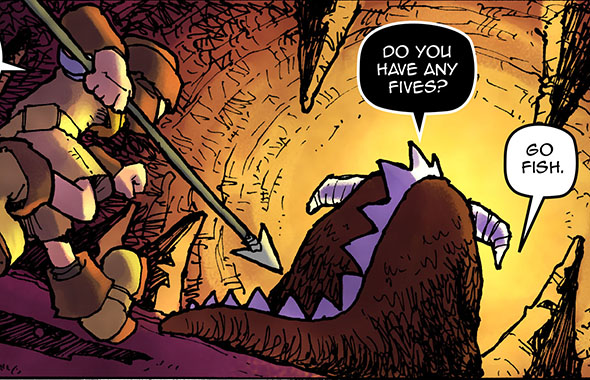 The Party - Katrina Kunstmann (a)
In The Party, two gods make their way to a party neither of them really wants to be at, held by a friend neither of them really like. This is a story that can happen to anybody on any plane of existence, except that it's happening to gods who can destroy galaxies. Written and drawn by Katrina Kunstmann (Warhead, Alter Life, Zed)
Download: Possession - Juan Carlos Ramos (a)
Download: Possession is a dark tale about a girl forced to make teddy bears for her robot overlord in order for him to fulfill a dastardly promise to her. It's moody and beautifully drawn, along with being haunting. Written and drawn by Juan Carlos Ramos (Transformers, SoLuna)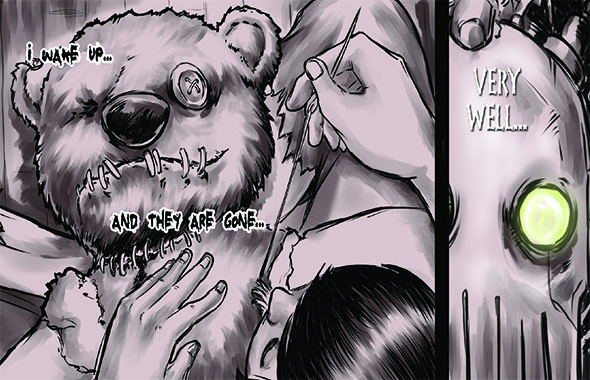 A Screen to Kill For - Michael Tanner (w), Greg Smith (w), Meescha Dare (a)
In A Screen to Kill For, a group of friends meet at a virtual reality center to play a video game for one of their birthdays. During the game, one of them stalks the others looking for prey. Written by Michael Tanner and Greg Smith (Junior Braves of the Apocalypse) and drawn by Meescha Dare.
B is for Beer - Scott Bachmann (w), Nate Lovett (a)
In B is for Beer, an over the hill and out of work Sesame Street type monster gets hammered and hits on loose women in this tale that is equally funny and poignant. Written by Scott Bachmann (Our Super Mom) and drawn by Nate Lovett (Hack/Slash, Bravest Warrior).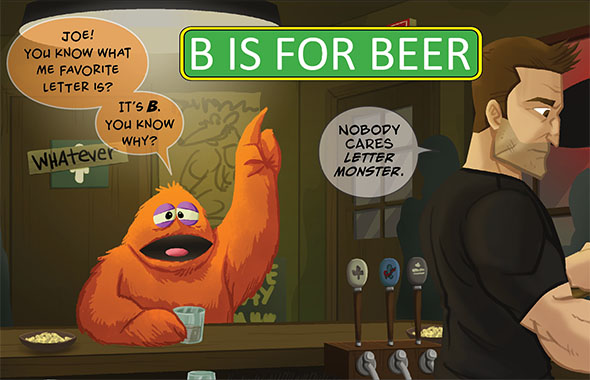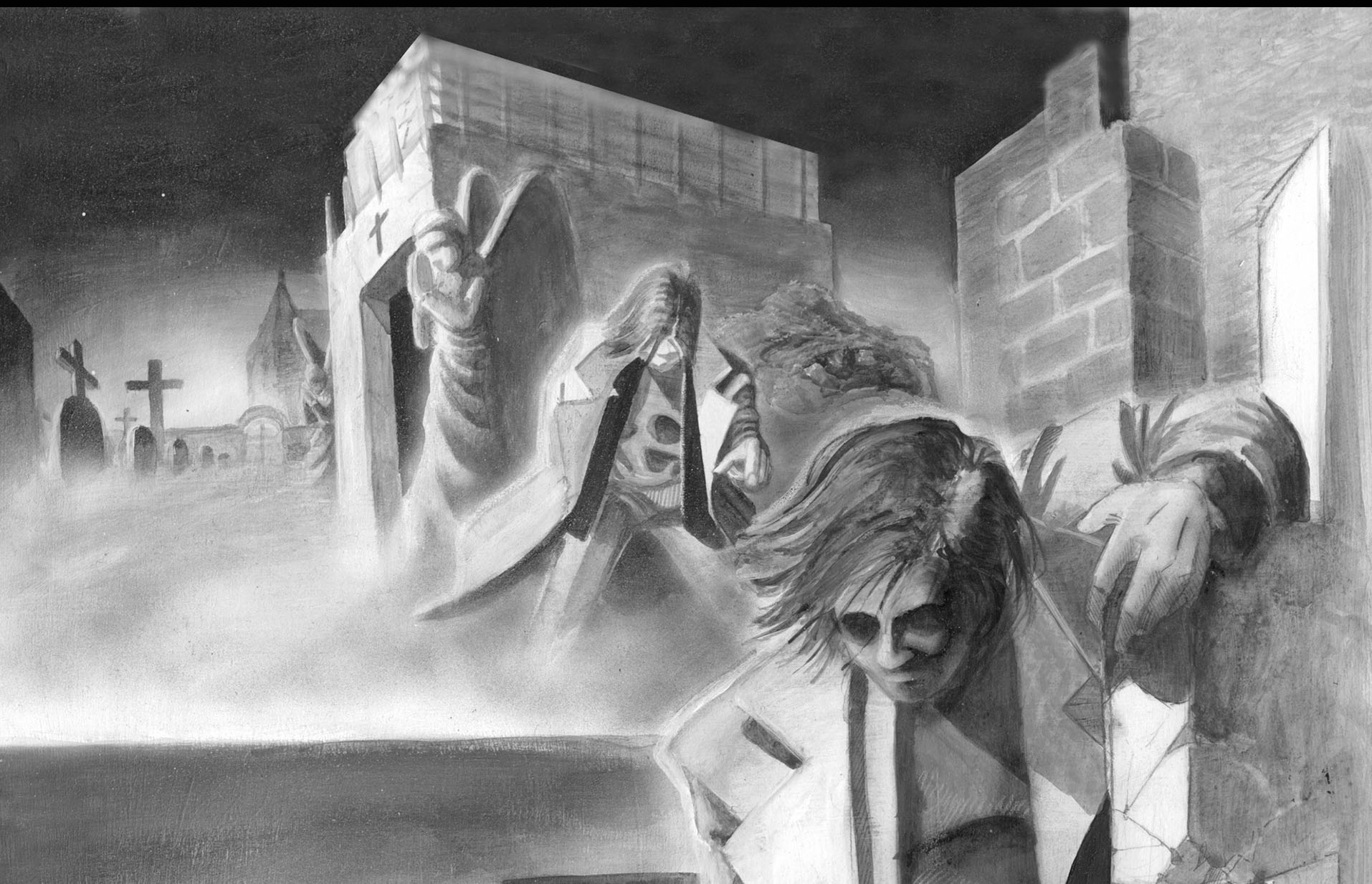 Vengeance - Dennis Greenhill (a)
In Vengeance, a man goes to his brother's grave to gloat over killing him, only to get an unexpected surprise. Written by Bloodfire Studios co-founder Dennis Greenhill (Dark Tarot, Pixies of Mayhem) and drawn by Lee Kohse (Star Wars, Speed Racer, Kindergoth). Additional art by Dennis Greenhill.
Undeaducation - Joe Ranoia (w), Cassidy Lee Phillips (a)
In Undeaducation, not all schools are created equal. In fact, not all students are even alive. Join our main character as he attempts to survive his first day in a school populated by zombies trying to reintegrate into society. Written by Joe Ranoia (Shy) and drawn by Cassidy Lee Phillips (Champion Killers).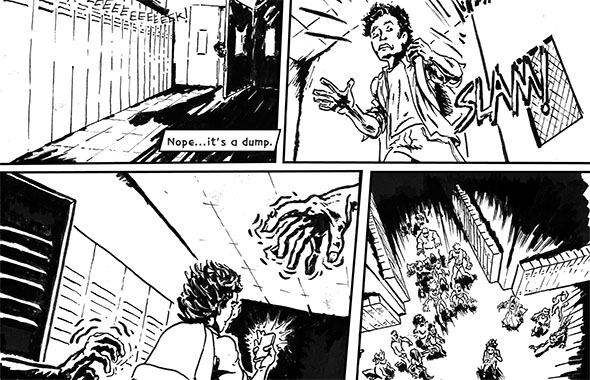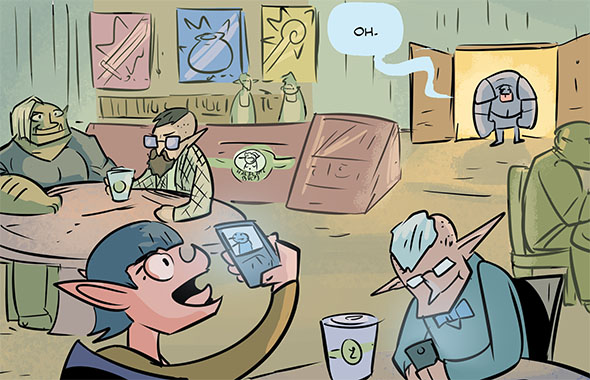 Millennials and Dragons - Nicolas Touris (a)
What happens when the old way of fighting and killing dragons ends and a new era of kinder exploring takes its place? What if the world evolved beyond hack and slash and left you behind? That's what Millennials and Dragons talks about, a new world order where simple fighting won't do. Written and drawn by Nicolas Touris (Godlikes, Fear Diaries)
Ghoul - Alexander Yak (w), Saint Yak (a)
In Ghoul, a group of bounty hunters sets out to kill a ghoul who has been terrorizing a local cemetery in the old west. It's a bloody, gory, and action packed story written by Alexander Yak and drawn by Saint Yak (Go West, Charlie Foxtrot)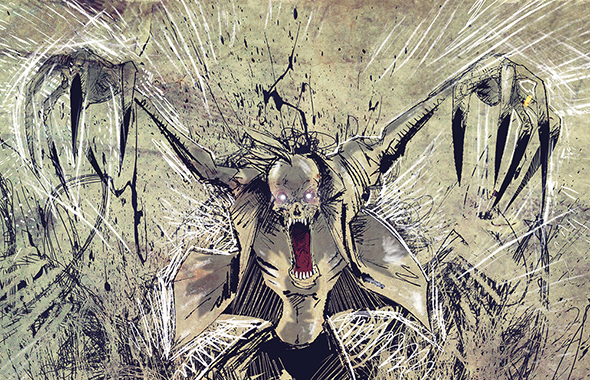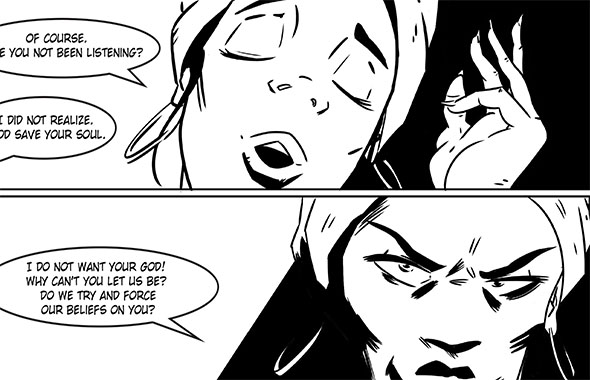 Last Rites - John Holland (w), Jonathan Fisher (a)
Last Rites follows the last moments in the life of a religious leader as she reflects on her life with a priest trying to change her religion before the end. Written by John Holland (Diebold, Ayla: Speaker for the Dead) and drawn by Jonathan Fisher.
This looks dope as fuck! When does it come out?
Soon! If you want more info, sign up to get notified when the anthology releases! AND get a free 50+ page preview of the book!!!
We value your privacy and would never spam you
Fear Monster - Christie Shinn (a)
Fear Monster is a short story set in the world of Christie Shinn's personal monsters universe. Christie has a book about the personal monsters you run into every day, from your best friend to your ex-boyfriend. Christie gets to the heart of humanity through these different monsters. Written and drawn by Christie Shinn (Personal Monsters, Sepulchre).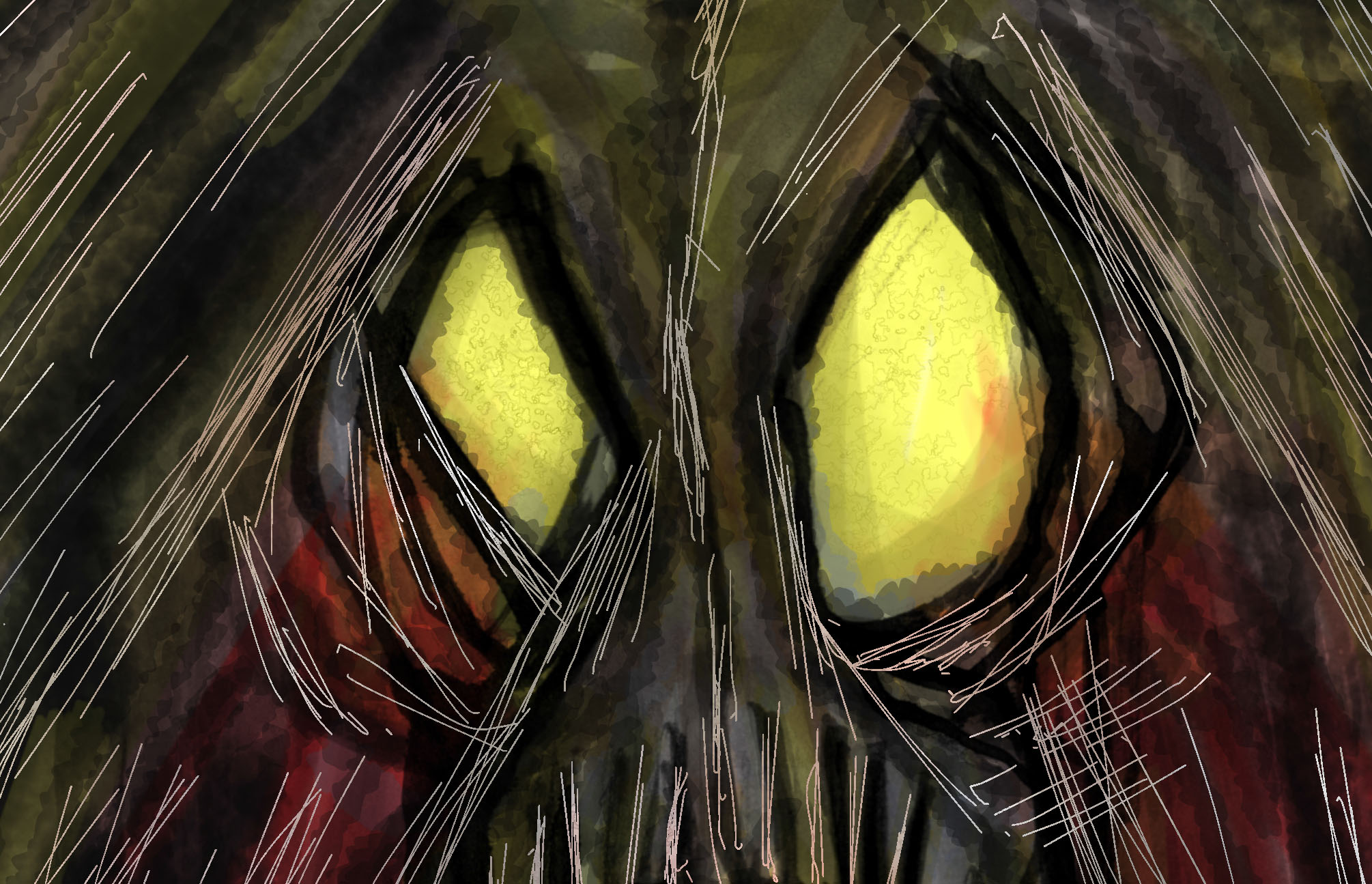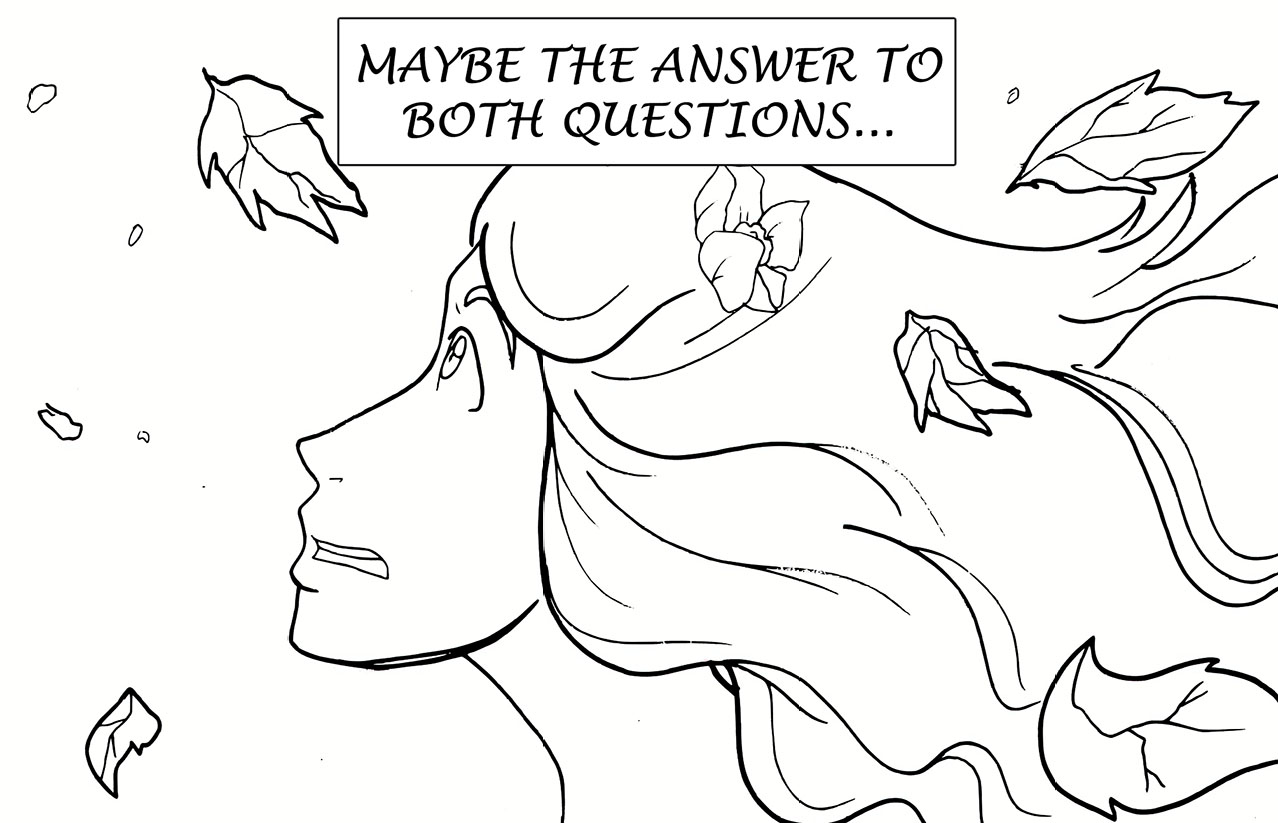 Butterfly - Arthur Bellfield (w), Blair Rossi (a)
Butterfly explores what happens when we die, and why butterflies have such little time to exist after they escape their cocoon. Written by Arthur Bellfield (War's Chosen, God Cell) and drawn by Blair Rossi.
Fear - Bradley Sheridan (a)
Fear is a story set in Bradley Sheridan's Why Do I Rock universe, which is his web cartoon about a Godzilla-like monster that destroys towns while he pontificates about life. His piece is the first long form in the series, and talks about the role fear plays in our lives. Written and drawn by Bradley Sheridan (Why do I Rock?)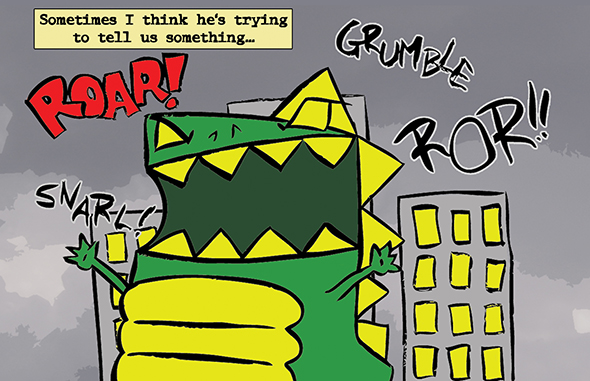 Boogeyman - Christian Douglas (w), Ivan Sarnago (a)
In Boogeyman, a long-in-the-tooth cop tries to track down a serial killer who drains and dismembers its victim, all while trying not to become the monster's next meal. Written by Christian Douglas (Unpopular Tales) and drawn by Ivan Sarnago (Lunita).
Legend of the White Lady - David Lucarelli (w), Henry Ponciano (a)
The Legend of the White Lady tells tale of a Baobhan Sith that tracked and killed hunters at night until she met the man of her dreams. Then, it all goes to pot. Written by David Lucarelli (Children's Vampire Hunting Brigade) and drawn by Henry Ponciano (Children's Vampire Hunting Brigade).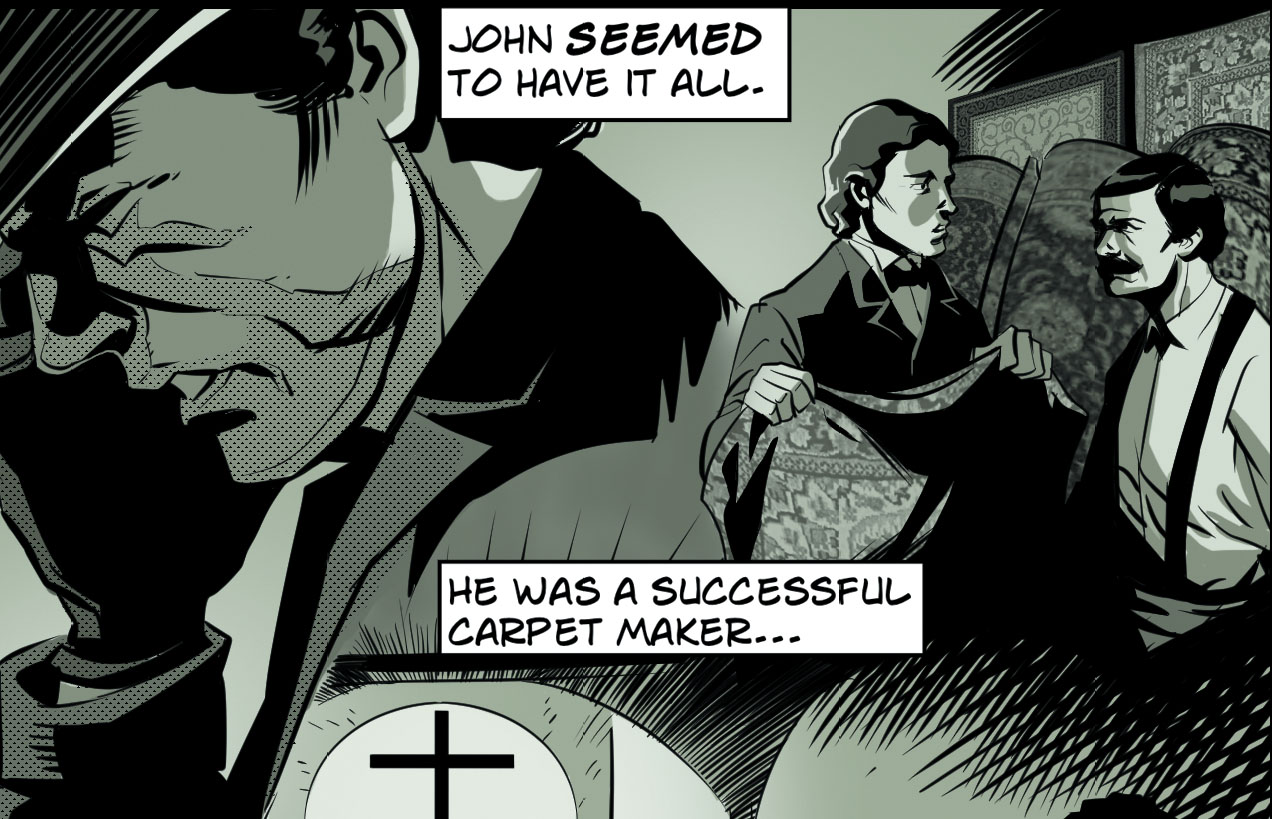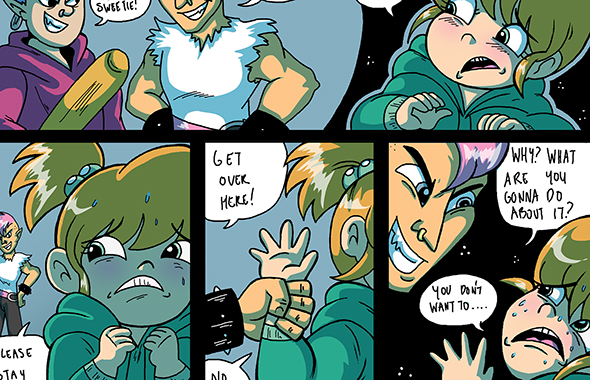 Nightwalker - Mary Bellamy (a)
Nightwalker is a tale about a girl walking home at night through the dark alleys of the world, until she is besets by a group of thugs. Written and drawn by Mary Bellamy (My Little Pony, Ah Heck!!)
One Last Tear - Nicholas Doan (w), Daniele Serra (a)
In One Last Tear, a group of friends search through an abandoned building for clues to find a monster and get more than they bargained for when they try to escape. Written by Nicholas Doan (Monster Elementary) and drawn by Daniele Serra (Hellraiser Bestiary).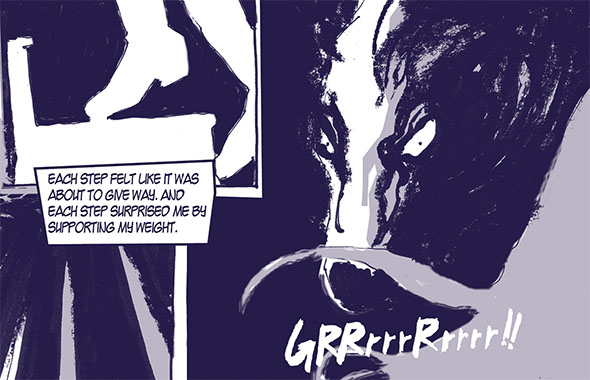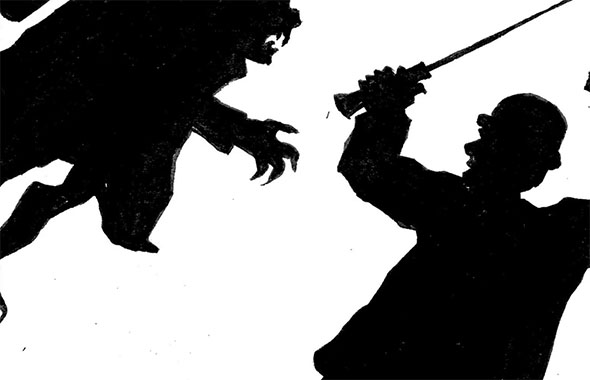 Claxton and Claxton - CW Cooke (w), Kurt Belcher (a)
Claxton and Claxton tells the story of a monster hunting family through the decades as they root out evil in all their forms. Written by CW Cooke (Stillwater, Solitary) and drawn by Kurt Belcher (Winter's War, Broken Frontier)
Emerik - Michael Norwitz (w), Phillip Johnson (a)
In Emerik, a hapless fisherman is pulled under the sea by an angry fish and comes face to face with the mighty Cthulhu. Written by Michael Norwitz and drawn by Phillip Johnson (Ghost Rider Xmas Special).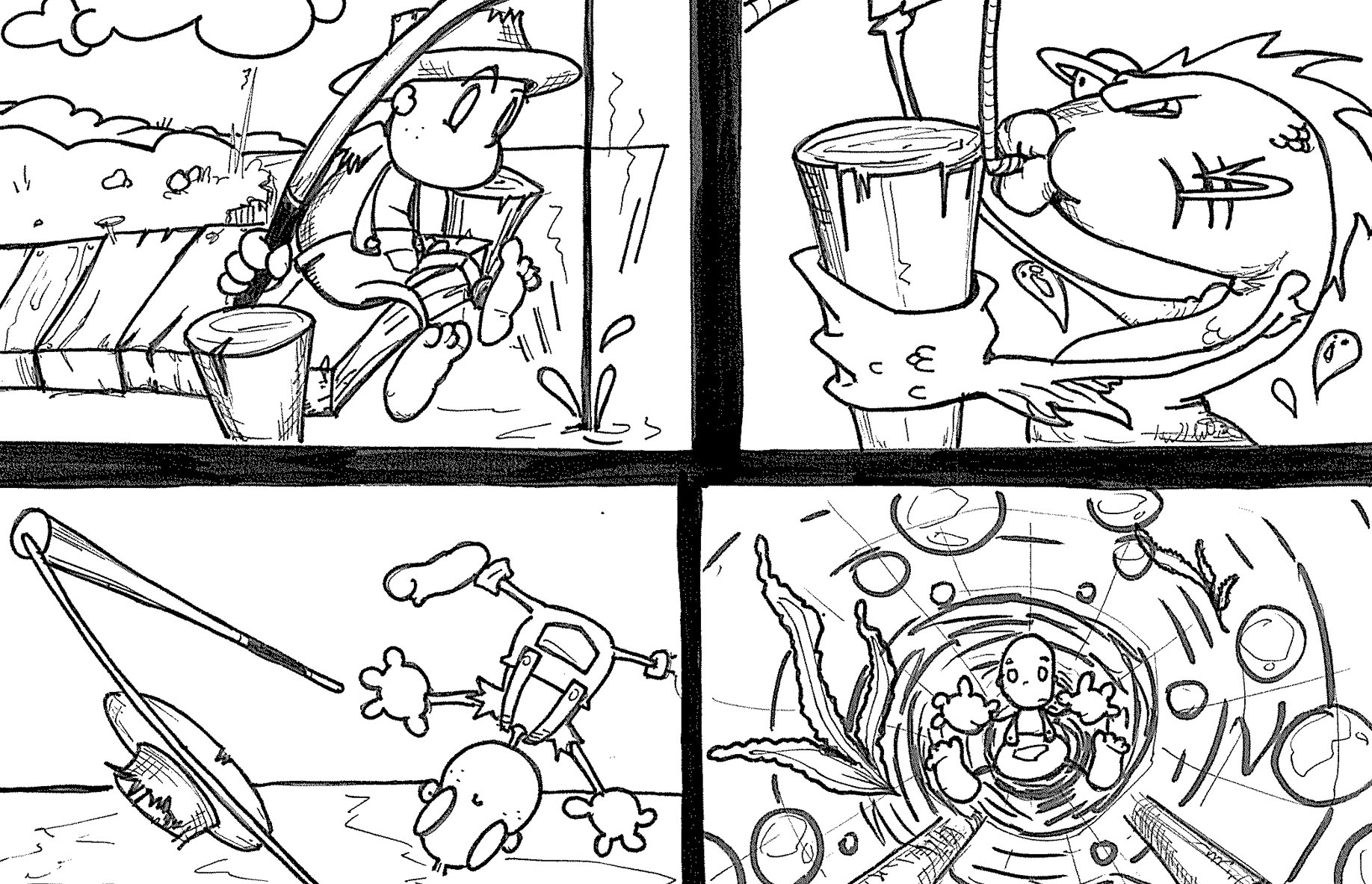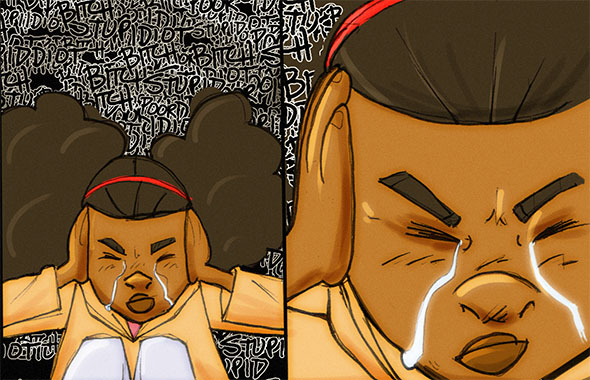 Seven Tears - Rob Hebert (a)
Seven Tears is about a mermaid who tries to make friends with a lonely little girl who is treated terribly by everybody around her. Written and drawn by Rob Hebert (A Terrible Time).
Whoa! This looks great!
Thanks. We agree. So sign up and get notified when the book launches, AND get your 50+ page preview today.
We value your privacy and would never spam you
Calladseelee - Jack Holder (w), Saint Yak (a)
In Calladseelee, a group of adventurers search for an inhuman monster to save a town from the clutches of a menace. Written by Jack Holder (Dealing with the Apokalypse, Unfortunately Human) and drawn by Saint Yak (Go West, Charlie Foxtrot).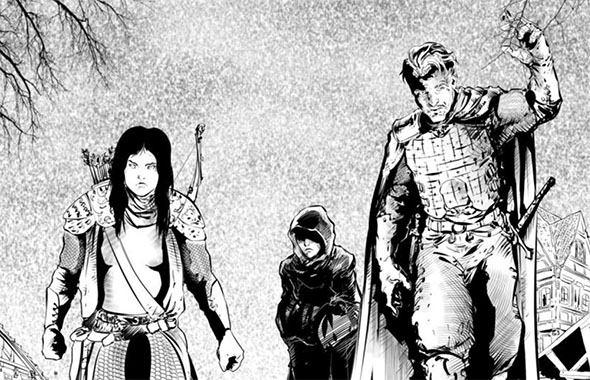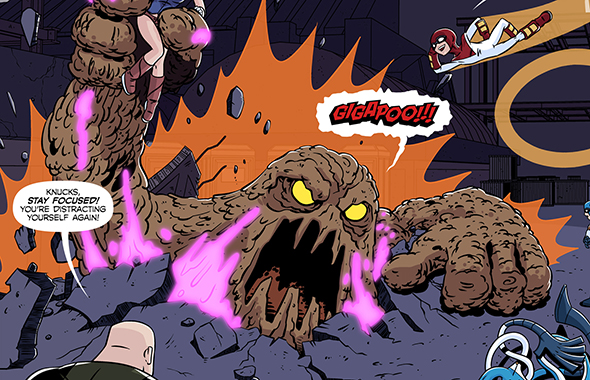 Gigapoo - Luis Bermudez (w), Alex Bermudez (a)
Luis and Alex Bermudez created a new tale in their superhero universe for this anthology. This time their superheroes come face to face with Gigapoo, a massive poop monster that can't be stopped! Written by Luis Bermudez and drawn by Alex Bermudez (The Secret Anthology).
Frozen Scream - Walter Ostlie (a)
Frozen Scream is a one page tale from Walter Ostlie about a woman who sees something truly horrifying looking back at her from an ancient mirror. Written and Drawn by Walter Ostlie (Shiver Bureau, Cubicles).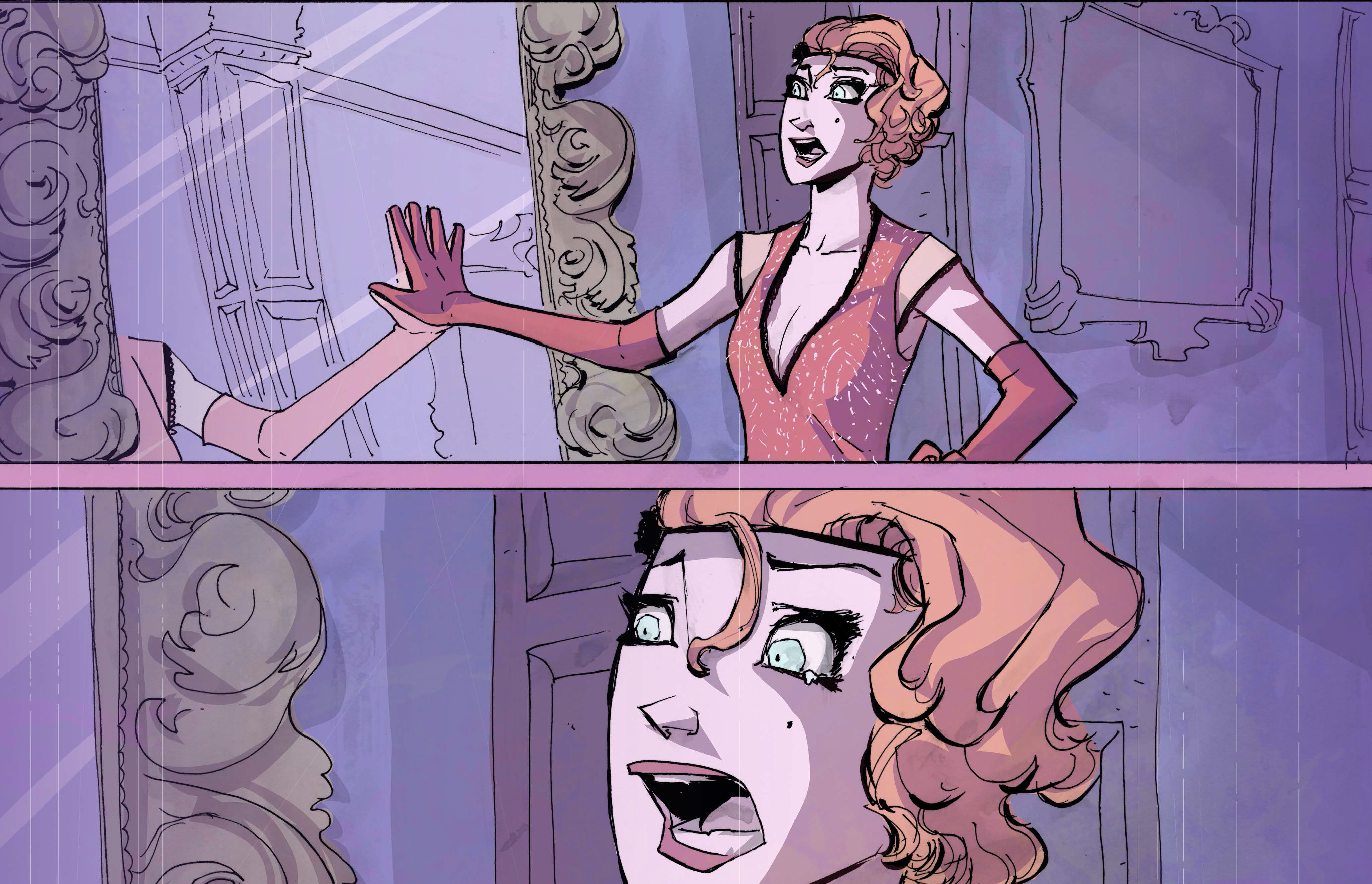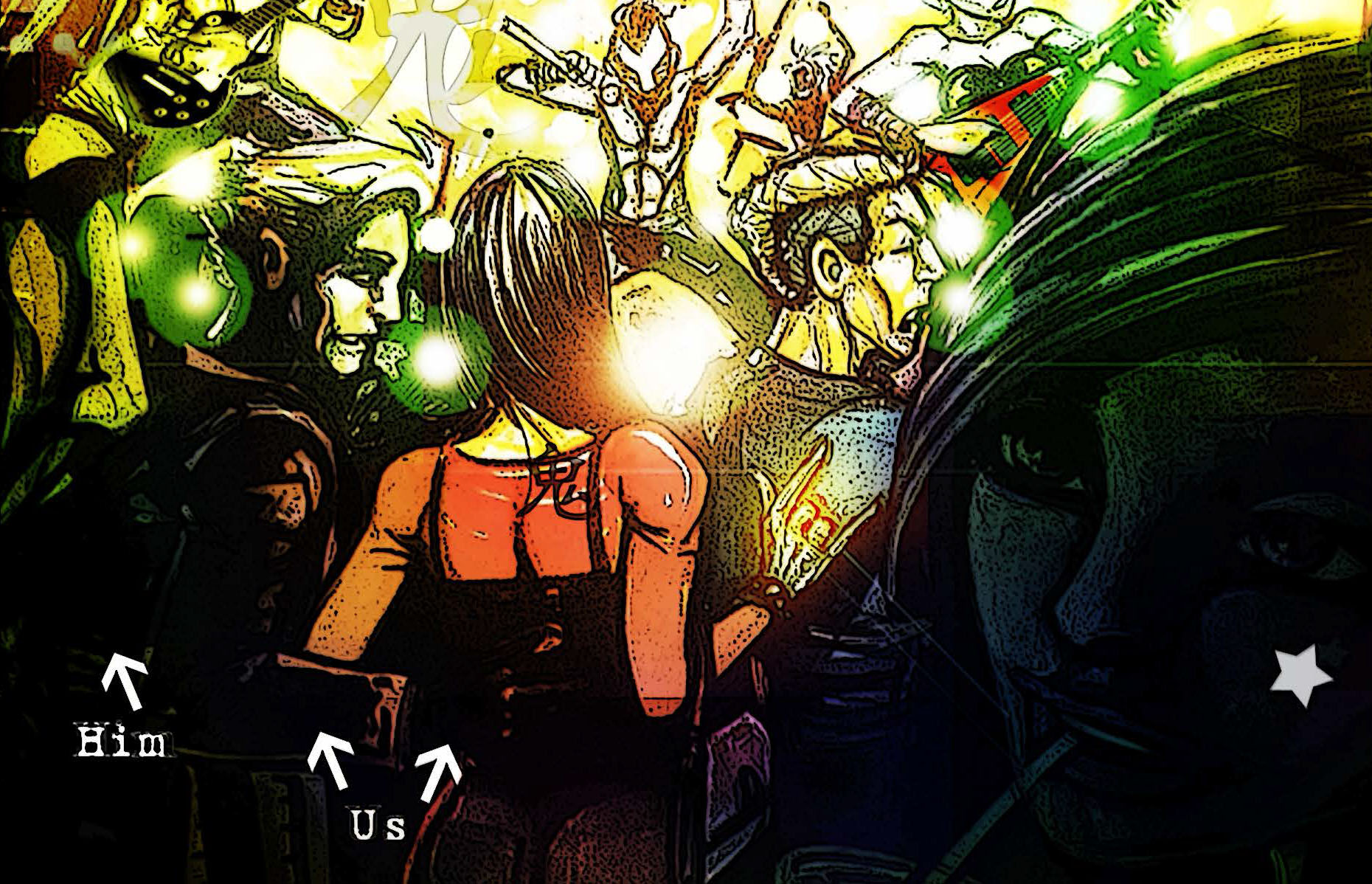 The Deal - Dan Sharner (w), Zac Skellington (a)
The Deal takes place in the aftermath of a Faustian bargain, as the narrator realizes what selling his soul really means. Written by Daniel Sharner and drawn by Zac Skellington (Nighttime Monsters).
Online Predator - Steve Waldinger (w), Erika Lipkes (a)
Steve Waldinger and Erika Lipkes deliver a one page story about an online date that goes horribly wrong in Online Predator. Well, I guess horribly wrong depends on who you ask, actually. Written by Steve Waldinger (Comicprov) and drawn by Erika Lipkes (Hamster Wheel Brain).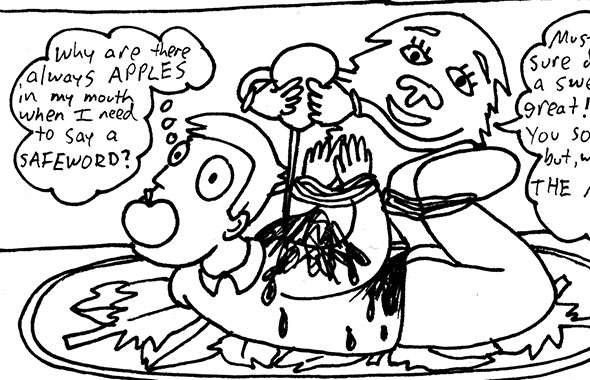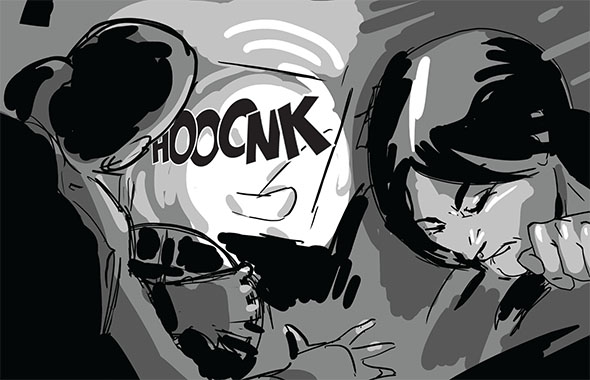 The Promise - Felix Yin (w), Alex Bodnar (a)
The Promise takes place after a woman wakes up from a terrible dream that she just can't shake. She's plagued with images that prevent her from sleeping, and over the course of the story we find out why she's having such troubles. Written by Felix Yin and drawn by Alex Bodnar.
Do My Bidding - Bobby Timony (a)
In Do My Bidding, a mad scientist can't get anybody to follow his orders so he constructs somebody who will...or will they? Written and drawn by Bobby Timony (Simpsons, Monster Elementary).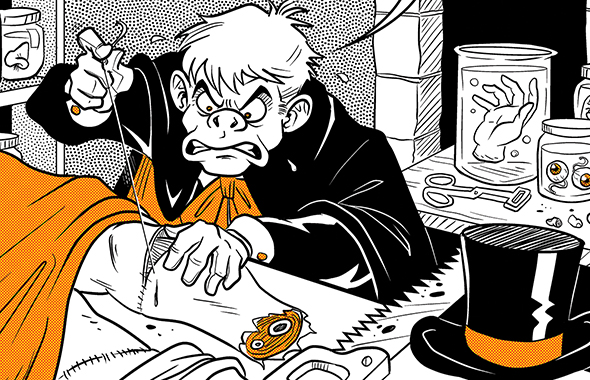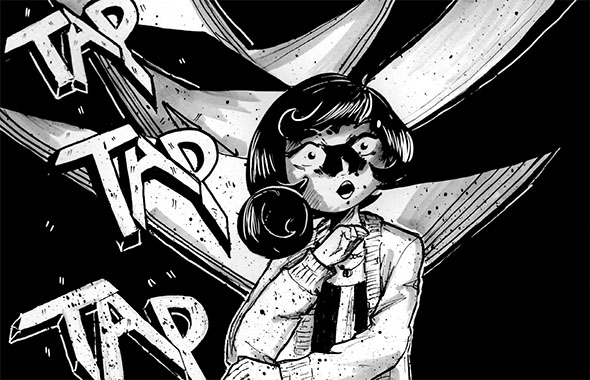 The Mirror - Greg Smith (w), Meescha Dare (a)
The Mirror follows a girl who buys an enchanted mirror and gets much more than she expects from it, in the worst way possible. Written by Greg Smith (Junior Braves of the Apocalypse) and drawn by Meescha Dare.
Belly of the Beast - Josh Wagner (w), Freedom Lee Drudge (a)
Belly of the Beast follows a group of parasites who live in the belly of a world swallowing beast, rebel against their horrible overlord, and find a planet to call their own. Written by Josh Wagner (Fiction Clemens) and drawn by Freedom Lee Drudge (Mice Templar).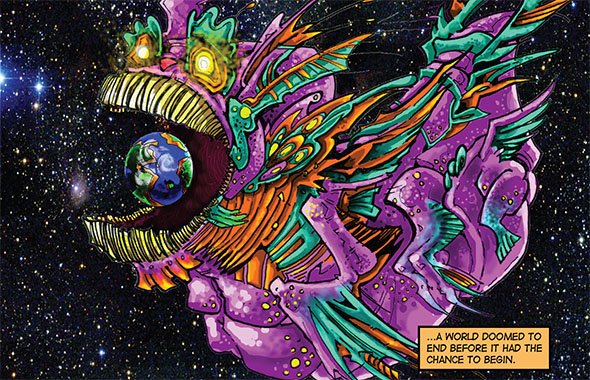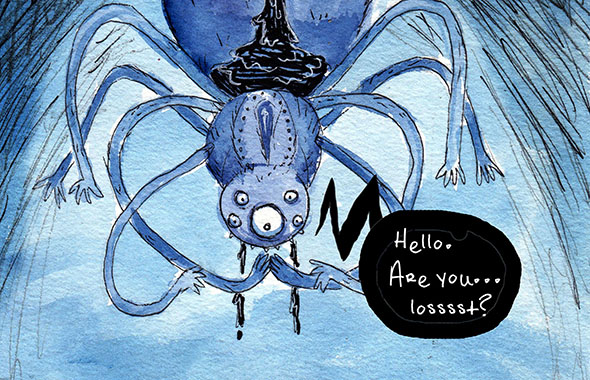 Esmeralda's Tree - Angela Fullard (a)
Angela Fullard delivers the last delightful tale in our anthology, called Esmerelda's Tree, about a girl who finds friendship in the weird tree behind her house that scares away everybody else except her. It's is the perfect whimsical note to end the anthology. Written and drawn by Angela Fullard (Angela's Oddlings).
Alright. This is dope AF. Where do I get it?!
Well you have to wait a little while. Not to fret though, sign up now and get notified when we launch! Plus get a 50+ page preview of the book today!
We value your privacy and would never spam you
How do I buy this sumbitch?
We'll be launching a Kickstarter to fund the print costs for this book on Valentine's Day 2017 (February 14th). The book is 100% done. All we're looking for is $20,000 to pay to pay our printer and ship the book to you.
Why Valentine's Day? Because this is our love letter to monsters, so it only felt appropriate to make this book our valentine. Besides, what's better to think about on V-DAY? A bunch of shitty heart candies or a crapload of amazing monsters?
Yeah. It's wasn't much of a choice for us either.
The book itself is going to be $40 when we launch the campaign. For that you'll get the hardcover book shipped to your house (in the US. There will be additional international charges), along with a full PDF of the book.
Why is the price so high? Because it's worth it, that's why.
This isn't some 50 page black and white anthology, xeroxed and saddle stitched in my mother's basement. It's a glorious, 224 page full color hardcover anthology, packed to the gills with amazing professional comic book creators, printed on high quality glossy art paper. Monsters and Other Scary Shit rivals the print quality of the best books by Humanoids, Magnetic, Archaia, or any other prestige publisher that puts loving care into every detail of their books.
This is the monster anthology to rule them all. It's the monster anthology to find them. It's the monster anthology to bring them all, and in the darkness bind them.
If you've backed a lot of anthologies before, think about Broken Frontier and Womanthology when you imagine the quality of Monsters and Other Scary Shit. Those books were both expensive AF, but worth every penny and more. There was love in each of those pages. There was care taken in each amazing story. They were an experience.
The same is true with our book. Monsters and Other Scary Shit is not just going to be a comic book, it's going to be an experience you can treasure for years to come. I hope you'll join us in bringing the book to life when our project launches in February.
Still not convinced?
No worries. Sign up for our launch list and get a 50+ page preview. If you don't like it, unsubscribe. It's that easy, plus you get free stuff!
We value your privacy and would never spam you